January 15, 2012 at 8:45 pm | Monthly Meeting Recaps | No comment

Lakeview Museum, Peoria, IL
Click for Results, Pictures, and Video!
December 26, 2011 at 11:13 pm | Bot Brawls | 3 comments
Our monthly meetings now take place at the Peoria Public Library North Branch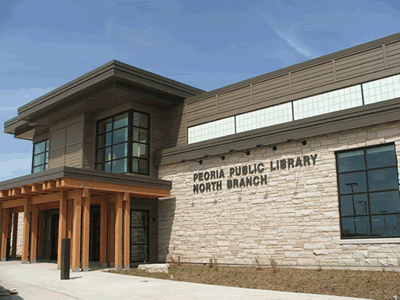 December 21, 2011 at 9:49 am | Announcements | No comment
December 11, 2011 at 11:41 am | Monthly Meeting Recaps | No comment
November 13, 2011 at 11:49 am | Monthly Meeting Recaps | No comment
Sadly in 2011 we learned that the iHobby Expo would be moving to Ohio starting with their 2012 convention. This meant that 2011 would be the final year that iHobby would take place on Illinois and everyone involved vowed to make sure to do a proper send off with even more robotics displays than ever before. Along with the ChiBots display and CRCA combat competitions, 2011 also saw the addition of Mech Warfare with a top knotch arena. CIRC was also represented with lots of displays including our RoboMagellan robot, Wheel-E. CIRC member Mike Dvorsky walked away with 1st place in racing line following and Curt Boirum took 3rd in the 3lb beetleweight combat event. While the CRCA group discussed the possibility of following iHobby out to Ohio next year ChiBots has already begun looking for a new event they can join for their annual ChiBotica competition in 2012. It will likely be a very long time before Illinois sees so much robotics excitment in one place again. Everyone who has participated in iHobby these past few years will definitely miss the experience.
October 22, 2011 at 9:57 pm | Community | No comment
October 16, 2011 at 11:52 am | Monthly Meeting Recaps | No comment
Wheel-E V2.0 competed at the 2011 Chibots SRS RoboMagellan Competition on August 6th. He was well equipped with numerous upgrades including a brand-new custom chassis designed using SolidWorks, MaxBotix ultrasonic rangefinders for object detection, and a new GPS unit. Wheel-E v2.0 was ultimately unable to complete the course but the CIRC team learned a great deal and is anxious to return again next year after more testing and troubleshooting. (more…)
October 1, 2011 at 11:25 am | Projects | No comment
September 18, 2011 at 11:54 am | Monthly Meeting Recaps | No comment
The 2011 Illini Boy Scout Jamboree took place on September 9th and was held just South of the University of Illinois in Champaign-Urbana. 3 CIRC members attended this event with a large collection of robot displays. The scouts were very interested in the robots and we received a lot of questions from curious parents and scout masters interested in the new Robotics merit badge recently announced.
September 9, 2011 at 8:36 pm | Community | 2 comments