Rules for Bot Brawl 17 have been finalized.  The changes made were minor.  Our goals was to loosen up some areas and get rid of ambiguities in other areas.  Rules can be found on the "Bot Brawls" page.  Just click on the event you are interested in.
June 21, 2017 at 10:10 pm | Uncategorized | No comment
For Bot Brawl 17 both the Antweight and Beetleweight categories for our RC competition are full!  We limited these events to 20 entrants each.  This is done so that we can get all events completed in a timely fashion.  At this time there are no plans to expand the number of entrants.  If you would like to get on a wait list, please email Bruce Stott at president@circpeoria.org.  I will put names on a list in case people cancel or we somehow find more room to allow more entrants.  I will need the robot name, weight class, and valid email address.  If a slot opens up, I will contact people in order to see if they are still interested and able to compete.
There is still room in the sumo and line events.  We suggest registering early.
For those that did register already.  If for some reason you know that you will not be able to make our Bot Brawl 17, please cancel your registration so that we can allow someone else to compete.  Thank you!
April 13, 2017 at 8:26 pm | Uncategorized | No comment
The date is set for Bot Brawl 17!!  It will be on August 12, 2017 at the Peoria Civic Center as part of the Midwest MakerFest as part of Ignite Peoria.  The events we plan on having are the 1 lb (Ant) & 3 lb (Beetle) RC Combat, the 500g (Mini) & 3 kg (Mega) Sumo, the Line Follow & Maze, and Checkers on a Sumo Ring.  The exact times for each event still need to be determined.  We may add or remove some events.  If you would like a particular event that is not listed and you would think it good to add, email the club at president@circpeoria.org.  If we don't get enough people pre-registered for an event, we will not hold that event.  So, please register early at buildersdb.com.  Rules for each event can be found on our Bot Brawls page.  We look forward to seeing you there!!
March 24, 2017 at 12:20 pm | Uncategorized | No comment
The club meeting location will be moving from AutonomouStuff to River City Labs for the foreseeable future starting for the March 2017 general meeting!  This will give CIRC and RCL a chance to collaborate more easily.  Meetings will stay on Wednesdays.  The monthly general club meetings will continue to be the second Tuesday of the month and start at 5:00 PM.  The Wheel-E build meetings will continue to be scheduled as time and interest abounds.
Many thanks to AutonomouStuff for hosting the meetings for so long!!!  It's very much appreciated!
Address:  River City Labs, 1213 SW Adams St, Downtown Peoria, IL 61602
Parking is along the street.  The meeting will be on the second floor.
March 6, 2017 at 5:55 pm | Uncategorized | No comment
The organizers of the UNI MiniSumo Smackdown invite you to compete in their mini sumo competition to be held on Friday, April 21, 2017 from 9:00 AM to 11:00 AM at the University of Northern Iowa.  The unique nature of this contest is that competitors can mail their robot entrants to the organizers and they will assign someone to operate the robot as per the owner's instructions.  Pretty cool, you don't have to even be there, which is nice on the budget.  The only downside is that the owner does not get to see their robot cream the competition.  Another upside is that the owner does not get to see their robot get creamed by the competition.  I guess it depends on how you look at it.  ?
Here is a link to the site with the announcement.
February 21, 2017 at 1:11 pm | Announcements, Competitions | No comment
Josh is working on a humanoid type of robot.  He has a lot going into this creation of his.  He is merging Meccano's Meccanoid G15 Robot with Microsoft's Cortana AI and Intel RealSense.  Here is a link his web page for this project.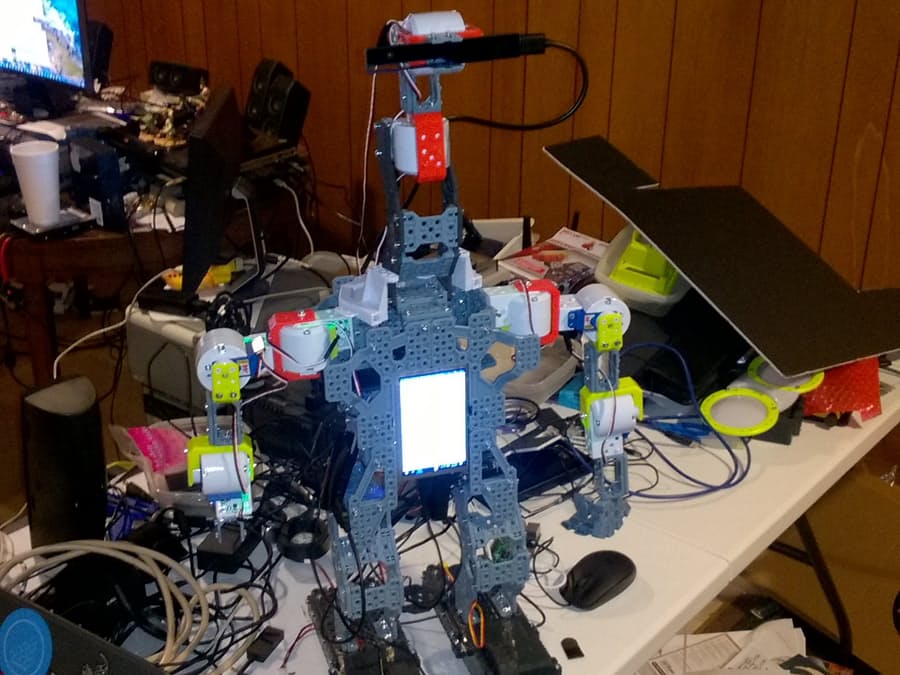 February 21, 2017 at 11:59 am | Announcements, Projects | No comment
We had a fun, exciting, and long day at Peoria Riverfront Museum as part of Engineering Day.  The event lasted from 12:00 PM to 5:00 PM.  Different organizations, clubs and companies put on interactive displays to expose and excite children about engineering.  We brought our line following and maze solving table, sumo ring, 3D printers, and bots to share with people.  Quite a few people came by our display in the main lobby to ask questions.  The kids got a kick out of watching Mike's line maze solving bot learning the line maze course and driving the shortest route to the end.  The 3D printers got lots of questions.  There were lots of questions regarding how to get started.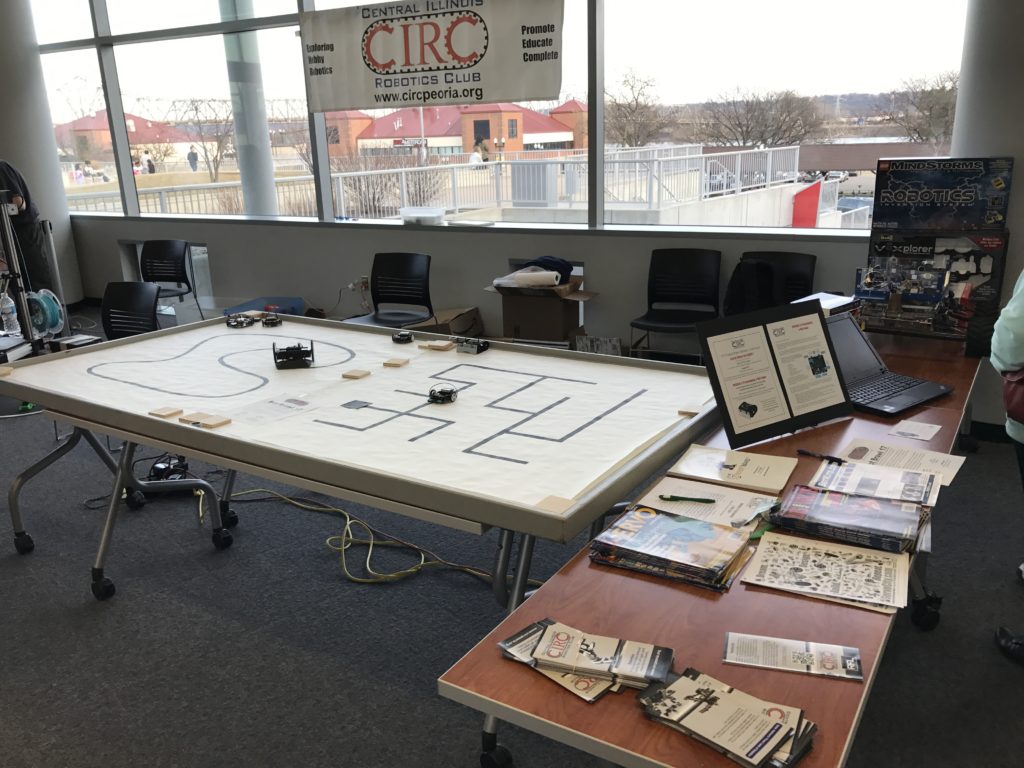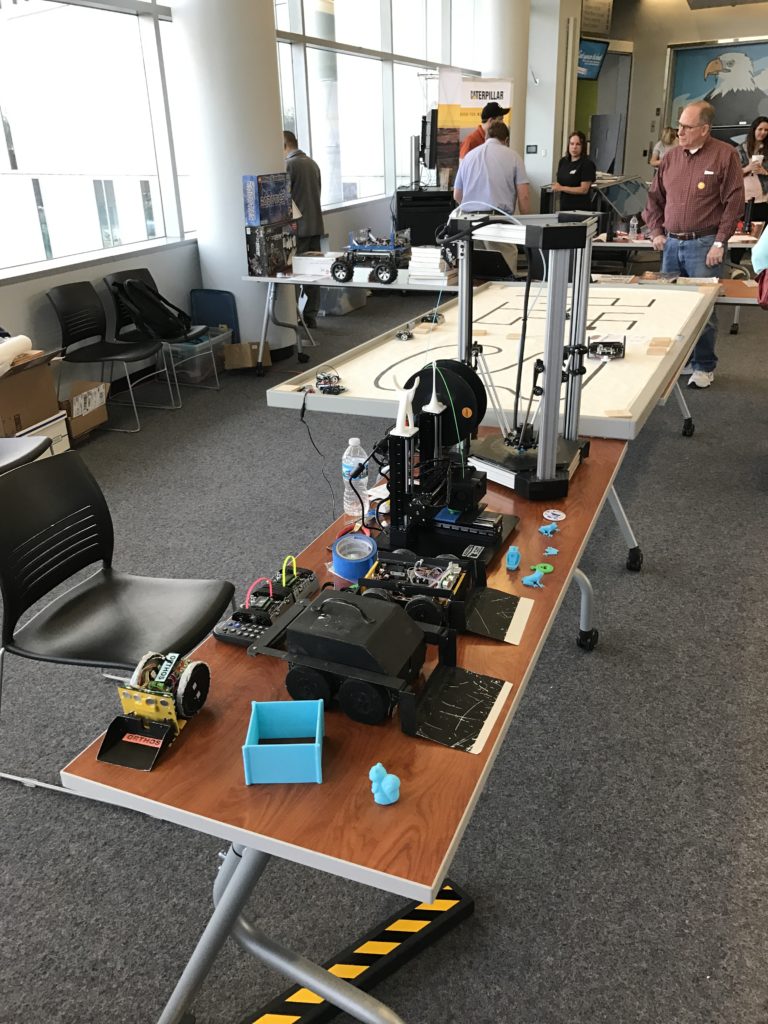 February 20, 2017 at 6:48 pm | Community, Uncategorized | No comment
CIRC invites you to come down to the Riverfront Museum in Peoria,IL, for a free day at the museum on Sunday, February 19, 2017.  The museum will be hosting Engineering Day all day long, 12:00 PM to 5:00 PM.  Admission is free!  Different organizations, groups and companies will be presenting interactive displays.  Engineers from the Illinois Valley Branch of ASCE will be running a bridge contest for students from the area.  CIRC will be displaying different hobby robotic events and projects that the club is involved in.  People will be allowed to tour the museum.  This is a great opportunity.  We look forward to seeing you there.
February 15, 2017 at 10:31 pm | Community, Uncategorized | No comment
The monthly meeting for February 2017 was moved from the 8th to the 15th.  It will be at the usual time and place, 5:00 PM at AutonomouStuff.  We did this because of the snow and people having conflicts.  Some months are just like that.
As always, non-members are welcomed!  The meeting format is show and tell followed by business.  People are encouraged to bring in projects that they want to share during show and tell.  No one has to stay for the business part of the meeting.  We hope to see you there.
February 8, 2017 at 3:47 pm | Uncategorized | No comment
The start of the new year has been a challenge for Wheel-E.   We have run into a stretch of people's schedules not aligning properly, which has postponed the first meeting of the year to continue work on our venerable RoboMagellan robot.  The meeting will happen one of these weeks.  The plan now is to meet on Wednesday, February 1, 2017 at AutonomouStuff starting at 5:00 PM.  (We schedule these meetings week to week as people are able and willing to attend.)
January 26, 2017 at 10:37 am | Projects | No comment