Illinois State University RedBird Arena, Normal, IL
The 2013 Bot Brawl was held during the 3rd annual Family Science Day in collaboration with:
Click for Results, Pictures, and Video!
December 11, 2012 at 7:35 pm | Bot Brawls | No comment
December 9, 2012 at 7:40 pm | Monthly Meeting Recaps | No comment
All bi-Weekly build sessions will be cancelled starting 11/29/12 until early 2013. This time of year most members' schedules become very busy with family trips and holiday activities causing bi-weekly build session attendance to drop. In response to this we decided to cancel our build sessions over a few month period in 2011 and we'll be doing the same this year.
We will discuss when to resume build sessions during our club meetings in early 2013. Happy Holidays to everyone!
November 29, 2012 at 11:20 am | Announcements | No comment
November 12, 2012 at 11:39 pm | Monthly Meeting Recaps | No comment
October 14, 2012 at 7:31 pm | Monthly Meeting Recaps | No comment
CIRC was invited to participate in the 2012 ASME Osmoces event which stands for (Open Source Mechatronics Outreach & Creative Exchange Symposium). This event took place at the IIT Rice Campus in Wheaton, IL and was hosted by the Fox Valley ASME (American Society of Mechanical Engineers) chapter. Club president Dan Toborowski attended the event and brought his Marble Maze, FPV quadcopter, and our RoboMagellan robot Wheel-E. This event was intended to bring together members of the hacker community, individual hobbyists, professional engineers, and educators to share knowledge and ideas about open source technology, robotics, microcontrollers, and more. Several presentations and classes took place through the day focused on topics ranging from 3D printers, Raspberry Pi's and Arduinos to how to use Kickstarter. By far the most popular presentation however was by the keynote speaker; JPL engineer Steve Collins. Steve is the Cruise Attitude Control System Engineer for the Mars Curiosity Mission. Steve is shown below next to Wheel-E!
CIRC was excited to be included in this event and really enjoyed the opportunity to network with so many interesting people from the local hacker space, robotics, and education community. We look forward to next year's event!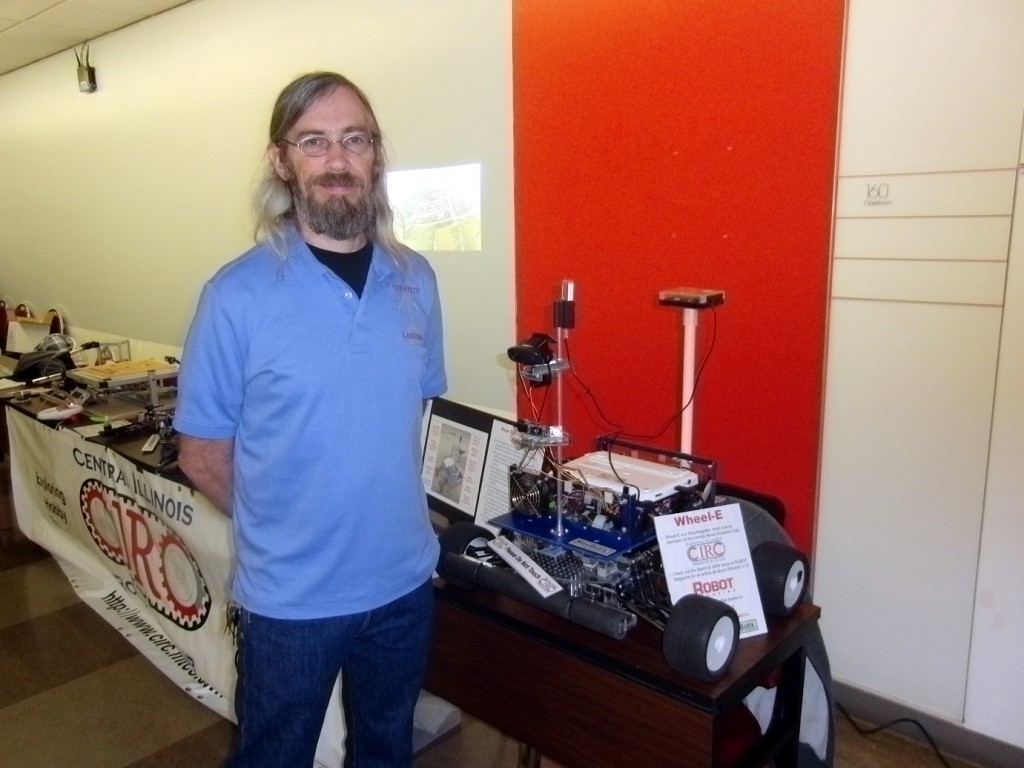 JPL Engineer Steve Collins with CIRC RoboMagellan Robot Wheel-E 2.1
October 13, 2012 at 7:11 pm | Community | No comment
Here are some pictures and a video from CIRC's first group outing. 5 of our members went on Segway tour at the Peoria Riverfront. Segway Tours are available through http://www.worldonwheelspeoria.com/
September 30, 2012 at 9:10 pm | Uncategorized | No comment
September 23, 2012 at 3:00 pm | Monthly Meeting Recaps | No comment
August 13, 2012 at 7:05 pm | Monthly Meeting Recaps | No comment
Wheel-E V2.1 competed at the 2012 Chibots SRS RoboMagellan Competition on August 4th and won 2nd place! Several updates were made since the 2011 year including replacing the Mini ITX computer with a Dell Netbook, replacing the GPS and Compass with an ArduPilot board, and upgrading from Nimh batteries to 4S LiPoly packs. A huge thanks again to SolidWorks and MaxBotix Ultrasonic Rangefinders for their continued support of this project! While Wheel-E was able to successfully complete the course once, our other 2 runs did not go as well due to compass accuracy problems and the lack of functional object detection. We'll return next year with these problems hopefully remedied.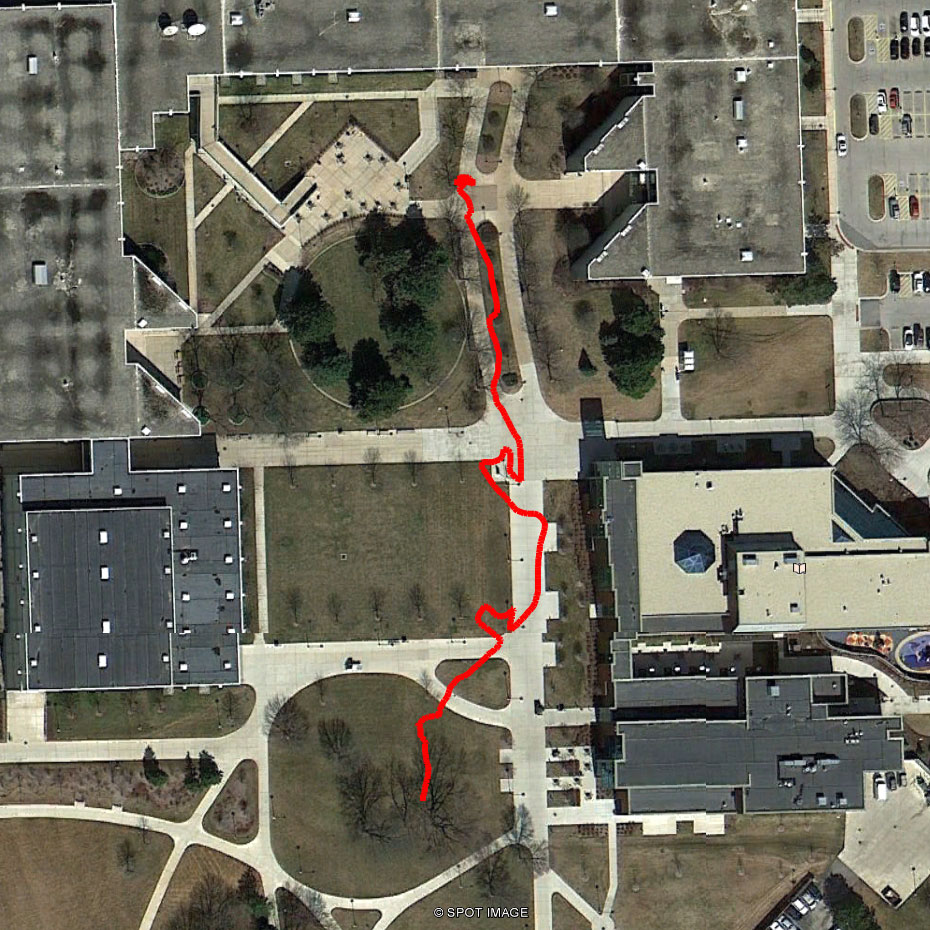 Recorded GPS track for Wheel-E's 2nd place run at 2012 Chibots SRS RoboMagellan Competition
Wheel-E 2.1 Components:

Dell Inspiron Mini 1012 netbook with Intel Atom N450 CPU and 1 GB RAM running 32-bit Windows 7 Professional
Atmel AVR-based controller for sensor input and motor control
Two Turnigy 4-cell 25C 14.8 V 5000 mAh Li-Po batteries in parallel for 10 AH total capacity

Parallax HB-25 electronic speed controllers (2)

ML-3506 Planetary Gearmotors (2)
CUI encoders (2)
Suspension from a Traxxas T-Maxx RC truck in differential drive configuration
Pro-Line Road Rage Tires with Traxxas Dished Hubs (4)

Chassis designed using SolidWorks 3D CAD design software
Custom machined polycarbonate parts fabricated using a Probotix Comet CNC router

Custom aluminum and plastic parts fabricated using Sherline CNC lathe and milling machine and a MakerBot Replicator 3D printer
MicroRAX aluminum extrusions for chassis lid and netbook mount

ArduPilot Mega 2.0 for GPS and compass
MaxBotix ultrasonic rangefinders for obstacle detection (4)

Cone detection using a Logitech C310 HD webcam on a Lynxmotion pan-and-tilt assembly
Programmed using Microsoft Visual Basic 2008 Express and RoboRealm

Belkin Wi-Fi for sending telemetry to base station laptop
Spektrum 2.4 GHz RC transmitter and receiver for safety stop switch
August 4, 2012 at 8:40 am | Projects | 1 comment