Club president Dan Toborowski appeared on WMBD 31 "News This Morning" on 4/9 with Family Science Day organizer Sara McCubbins to talk about the upcoming event and demonstrate some robots. Click the logo below to see the video!

April 10, 2013 at 8:07 pm | Announcements | No comment
March 10, 2013 at 6:02 pm | Monthly Meeting Recaps, Uncategorized | No comment
The Peoria Riverfront Museum hosted Engineers Day on February 17th and CIRC was on hand to show the local community the exciting world of robotics. In previous year's this event took place at the Lakeview Museum but has moved to it's new home at the riverfront. The goal is to get kids excited about engineering and science through hands-on exhibits, informative displays, and fun competitions. CIRC brought the Marble Maze interactive game, Wheel-E, an Afina 3D printer, line follower robots, HEX Bug toys, an Arduino-powered LEGO excavator, and lots of static robot displays. A huge thanks to Mike Dvorsky, Bruce Stott, Peter Campbell, and Brian Oleson for helping with the CIRC display. We look forward to participating in this event again next year!
Click the following links to see local news stories about the event some of which provide a glimpse of our display and club members!



February 17, 2013 at 1:09 pm | Community | No comment
January 13, 2013 at 4:58 pm | Monthly Meeting Recaps | No comment
Illinois State University RedBird Arena, Normal, IL
The 2013 Bot Brawl was held during the 3rd annual Family Science Day in collaboration with:
Click for Results, Pictures, and Video!
December 11, 2012 at 7:35 pm | Bot Brawls | No comment
December 9, 2012 at 7:40 pm | Monthly Meeting Recaps | No comment
All bi-Weekly build sessions will be cancelled starting 11/29/12 until early 2013. This time of year most members' schedules become very busy with family trips and holiday activities causing bi-weekly build session attendance to drop. In response to this we decided to cancel our build sessions over a few month period in 2011 and we'll be doing the same this year.
We will discuss when to resume build sessions during our club meetings in early 2013. Happy Holidays to everyone!
November 29, 2012 at 11:20 am | Announcements | No comment
November 12, 2012 at 11:39 pm | Monthly Meeting Recaps | No comment
October 14, 2012 at 7:31 pm | Monthly Meeting Recaps | No comment
CIRC was invited to participate in the 2012 ASME Osmoces event which stands for (Open Source Mechatronics Outreach & Creative Exchange Symposium). This event took place at the IIT Rice Campus in Wheaton, IL and was hosted by the Fox Valley ASME (American Society of Mechanical Engineers) chapter. Club president Dan Toborowski attended the event and brought his Marble Maze, FPV quadcopter, and our RoboMagellan robot Wheel-E. This event was intended to bring together members of the hacker community, individual hobbyists, professional engineers, and educators to share knowledge and ideas about open source technology, robotics, microcontrollers, and more. Several presentations and classes took place through the day focused on topics ranging from 3D printers, Raspberry Pi's and Arduinos to how to use Kickstarter. By far the most popular presentation however was by the keynote speaker; JPL engineer Steve Collins. Steve is the Cruise Attitude Control System Engineer for the Mars Curiosity Mission. Steve is shown below next to Wheel-E!
CIRC was excited to be included in this event and really enjoyed the opportunity to network with so many interesting people from the local hacker space, robotics, and education community. We look forward to next year's event!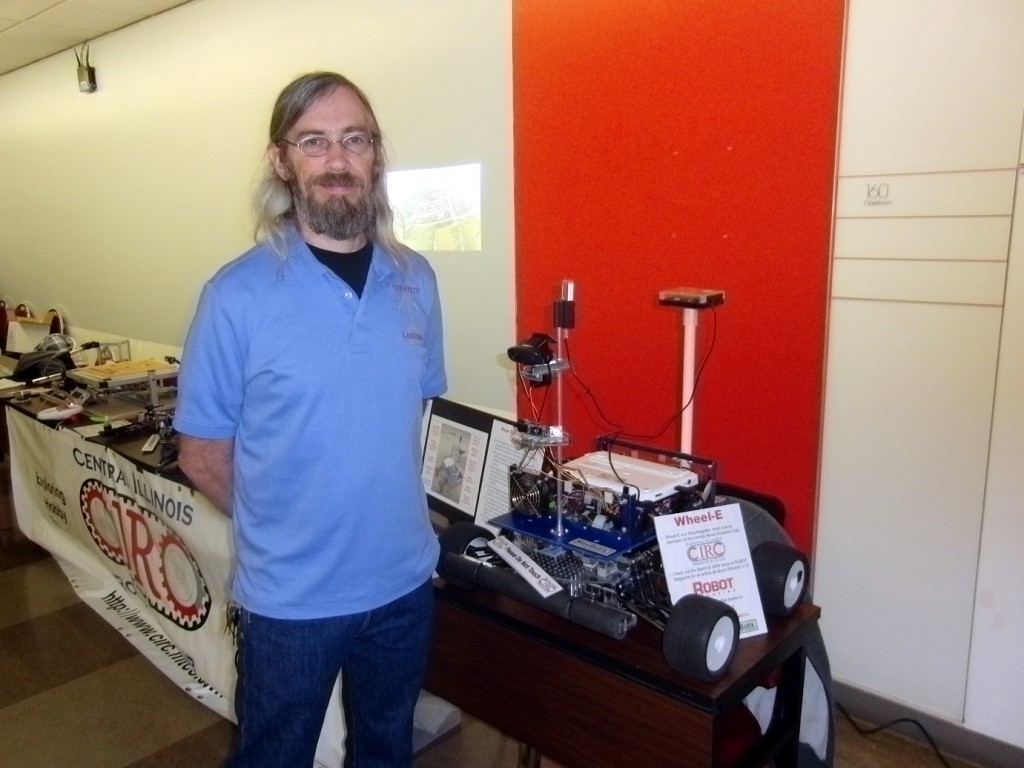 JPL Engineer Steve Collins with CIRC RoboMagellan Robot Wheel-E 2.1
October 13, 2012 at 7:11 pm | Community | No comment