Uncategorized
Back to BotBrawl 2014 Competition Page…
| | | | |
| --- | --- | --- | --- |
| Start | Stop | Event | Duration (hr:min) |
| 8:00 AM | 10:00 AM | Final Setup | 2:00 |
| 10:00 AM | 10:00 AM | Combat Check-In Deadline | 0:00 |
| 10:00 AM | 10:10 AM | Driver's Meeting | 0:10 |
| 10:10 AM | 12:00 PM | Combat Competition – 1st Round | 1:50 |
| 11:00 AM | 11:00 AM | Start of Family Science Day | 0:00 |
| 12:00 PM | 12:00 PM | Sumo Check-In Deadline | 0:00 |
| 12:00 PM | 12:05 PM | Reconfigure for Sumo | 0:05 |
| 12:05 PM | 12:30 PM | Sumo | 0:25 |
| 12:30 PM | 12:40 PM | Checkers on a Sumo Ring | 0:10 |
| 12:40 PM | 12:45 PM | Checkers on a Sumo Ring & Sumo Awards | 0:05 |
| 12:45 PM | 12:50 PM | Reconfigure for Combat | 0:05 |
| 12:50 PM | 1:20 PM | Lunch Break | 0:30 |
| 1:20 PM | 2:55 PM | Combat Competition – Final Round | 1:35 |
| 2:55 PM | 3:00 PM | Combat Awards | 0:05 |
| 3:00 PM | 3:00 PM | Line Following & Maze Check-In Deadline | 0:00 |
| 3:00 PM | 3:20 PM | Line Following | 0:20 |
| 3:20 PM | 3:30 PM | Line Maze | 0:10 |
| 3:30 PM | 3:35 PM | Line Following & Maze Awards | 0:05 |
| 3:35 PM | 3:55 PM | Combat Rumbles | 0:20 |
| 3:55 PM | 4:00 PM | End of Family Science Day | 0:00 |
| 3:55 PM | 4:55 PM | Clean-Up | 1:00 |
March 21, 2014 at 9:30 am | Uncategorized | No comment
Check out the September/October issue of ROBOT Magazine for an exciting article about our 2013 Bot Brawl!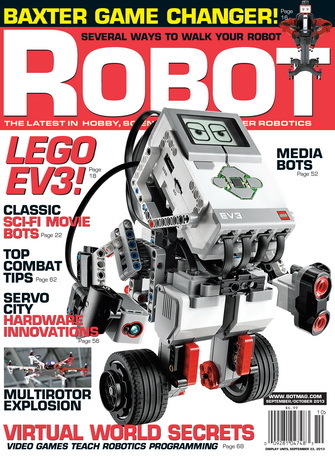 July 30, 2013 at 11:06 am | Announcements, Uncategorized | No comment
March 10, 2013 at 6:02 pm | Monthly Meeting Recaps, Uncategorized | No comment
Here are some pictures and a video from CIRC's first group outing. 5 of our members went on Segway tour at the Peoria Riverfront. Segway Tours are available through http://www.worldonwheelspeoria.com/
September 30, 2012 at 9:10 pm | Uncategorized | No comment
The 2012 RoboGames competition took place from April 20th to the 23rd at San Mateo, California. This event was attended by CIRC President Dan Toborowski and Vice President Curt Boirum. Curt competed in the event with his 3lb Beetleweight and 120lb Middleweight combat robots.
April 26, 2012 at 6:11 am | Uncategorized | No comment